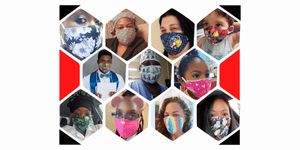 MADE AND SOLD BY NURSES
Was it 2019 when it began?
The uncertainty, the need, and the habit to protect yourself from being exposed to Covid-19 daily.
We remember the day when we first started wearing masks, scrub hats, and caps to create a barrier for extra safety.

Today, this new normal has integrated into our lives. And we know that we must continue to keep ourselves safe...
Especially when we know
doing otherwise could hurt the people we love.
It's a big responsibility to have on your shoulders, but if only there were a way to make
this easier, a way to avoid constant bruises on your nose or your ear...
Too much to ask? No. Because we make it possible!
"Masks by Loretta" is a dynamic black mother and daughter
duo of nurses providing hand-made, multi-functional products and durability all in one single place.
Sport your essentials with ease and style.
Personalized items that express your personality even with your mouth covered!
OTHER PLACES TO SHOP WITH US
Thank you for browsing Masks By Loretta. Please feel free to browse other locations to shop with us by clicking the links below.